Author Farrah Douglas paints a compelling picture of her life as an immigrant, a shy young woman who tries to understand the American culture, find her place, and put down roots in her new country. Ultimately she would become a respected US political leader.
As a new college graduate in the Shah's Iran, Fary Goldshan had been hired as an interpreter/translator to assist with Bell Helicopter International's mission in the country. Despite laws and contractual promises to not fraternize with the American expatriates, a chance meeting with Rick Douglas sparked a sizzling love affair which neither had the strength to break off. They were ecstatic when they finally received permission from the Iranian government to marry. A year later, Farrah gave birth to their son Kevin. But their newfound bliss was not to last long.
The Ayatollah Khomeini's Islamic Revolution of 1979 throws the family's life into mortal danger. Disguised, they barely escape on the last Pan Am flight out of Teheran to America. Everything about her life had changed: now named "Farrah," and unfamiliar with American mainstream culture, the immigrant finds herself isolated in an American suburb with an infant, while cars boldly display bumper stickers that read, "Save a turkey, roast an Iranian."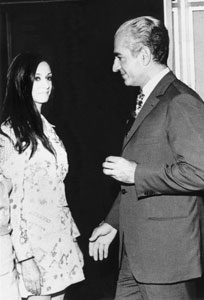 That American's are not so welcoming of Iranian citizens in their midst, "Farrah" feels utterly misplaced—and wants to return to her homeland. But Iran wouldn't allow her back—not even to visit her family as her father lay dying. Channeling her heartbreak, and with Iran holding US hostages and US President Jimmy Carter bartering for their release, and as the Islamic Republic of Iran continues to rip away at the Iranian peoples' rights and freedoms, she takes the oath to become a US citizen and begins her transformation from a muted voice to a thunderous cry as an advocate for human rights. She becomes a political leader—and a respected international voice.
An unforgettable journey of the sacrifices of love in the midst of international politics.
---
REVIEWS
A story worth telling. —Lindy Hudis, IMPACT Motion Pictures

A gorgeously poignant story told with grace, kindness and fabulous sense of humor. —Jane S. Meisner, Emmy winner, Des Moines Register & Tribune

Stunning. —Kasra Naji, author, Ahmadinejad, the Secret History of Iran's Radical Leader
---
ABOUT THE AUTHOR
Farrah Douglas broke into Iran's literary society at the age of 18. Honored by the Shah of Iran, she earned a place in Iran's 'Who's Who.' Farrah, her husband and son were the last Americans to leave Iran during the Islamic Revolution. She is a political leader, a respected advocate on human rights issues and popular speaker on the international lecture circuit.