In an epic tale of identity and the indomitable human spirit, Out of The TRANSYLVANIA NIGHT explores tyranny, freedom, love, success, and the price paid for misaligned dreams. An incredibly powerful memoir.
---
ABOUT THE BOOK
"I'd grown up in the land of TRANSYLVANIA, homeland to Dracula, Vlad the Impaler, and, worse, the Communist dictator, Nicolae Ceausescu—who turned Romania into a land of gray-clad zombies who never dared to show their individuality, and where neighbors became informants, and the Securitate made people disappear. Daylight empowered the regime to encircle us like starved wolves, and so night had always been the time to steal a bit of freedom. As if bred into our Transylvanian blood, we were like vampires who came to life after sundown. I buried the family jewels, tucked the flag into my sweater and left my outpost to join the action . . . tonight Ceausescu would die!"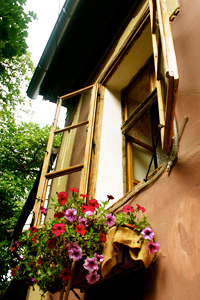 Known for using stand-ins to pose for him, Aura doubts if it was even Ceausescu himself who was killed that night. Nevertheless, when her countrymen topple one of the most draconian regimes in the Soviet bloc, Aura Imbarus tells herself that life post-revolution will be different. But little in the country changes. With two pieces of luggage and a powerful dream, Aura and her new husband flee to America. Through sacrifice and hard work, the couple acquire the "American Dream," but discover that straddling two cultures is much more complicated than they expect.
Aura she asks herself, "How much of one's life is owed to others?" Tested even further by the vagaries of fate, Aura discovers a startling truth about striking a balance between one's dreams and the sacrifices and compromises that allow for serenity, selfhood, and lasting love. More resolution comes when in 2010, Ceausescu's body is exhumed to answer questions of a cover-up, and Aura can finally lay to rest the haunting mysteries of her past.
---
As the Associated Press broke news of former communist Romanian dictator Nicolae Ceausescu being exhumed to answer questions of a cover-up, Aura Imbarus, author of Out of the Transylvanian Night detailed her life growing up under Ceausescu's brutal dictatorship and why exhuming Ceausescu's body is good news.
---
REVIEWS

Aura's courage shows the degree to which we are all willing to live lives centered on freedom, hope, and an authentic sense of self. Truly a love story! —Nadia Comaneci, Olympic Champion and Co-Founder of the Nadia Comaneci Children's Clinic in Bucharest
Unforgettable…it gives the pioneer spirit and courage to be outraged in the face of injustice, and the heart bravado in making change in the world.—Adrian Maher, Documentary Filmmaker, Discovery Channel
A compelling story of a fiercely independent young woman growing up at the height of world wide Communist power and then rapid fall of the Iron Curtain. If you grew up hearing names like Tito, Mao and Ceausescu but really didn't understand their significance: READ THIS BOOK!—Mark Skidmore, Paramount Pictures
Aura's Transylvania presents an emotional journey through both free and closed societies, revealing how freedom is found in the self, not the destination—Ilie T. Ardelean, Founding Chairman and President of Romanian-American Professional Network- RAPN

A remarkable account erasing a past, but not an identity. Thought-provoking, inspirational, and comforting—Todd Greenfield, 20th Century Fox Studios
Aura's book reveals a very personal but intense description of the life in Romania before and after the Romanian Revolution of 1989. This makes it a contribution to find out beyond historical studies, what happened to and with the people there. This book is sure to find its place in memorial literature of the world. —Beatrice Ungar, Editor in chief, Hermannstädter Zeitung
Pure gold! We all have been blessed by yours and your friend's presence. —Av. Nelu Prodan, Esq,
Honorary Consul Of Romania in Dallas-Texas; Vice Dean, The Consular Corps of Dallas/Fort
---
ABOUT THE AUTHOR
Aura Imbarus, PhD, is a former popular journalist in Europe, university professor, speaker, and award-winning educator. She is co-founder and ambassador of the Romanian-American Professional Network (RAPN) and the president of its Los Angeles chapter. She is also president of EuroCircle's Los Angeles chapter.

Aura was born in Sibiu, Romania. Educated at the famed Octavian Goga High School, she earned a Bachelor's Degree in English and Modern Languages and an MA in English Literature at Lucian Blaga University in Sibiu, Transylvania, Romania. She earned her PhD in Romance Languages-Philology under the tutelage of Professor Dumitru Cicio-Pop, PhD, who writes the Foreword for her book. (Dr. Ciocoi-Pop is the former president of Lucian Blaga University. A popular activist for human rights, he was imprisoned for two years for speaking out against the Communist regime.) Aura lives in Los Angeles.